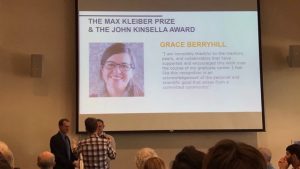 Congratulations to Grace Berryhill, recent lab alum and now technical scientist at Jackson Laboratories – on May 22nd, Grace received not one, but 2 major awards!
a) the Kinsella Memorial Prize awarded within the College of Agricultural and Environmental Sciences for outstanding PhD research, AND
b) the Max Kleiber Memorial Prize awarded for an outstanding dissertation in nutrition and metabolism (for the unacquainted, Dr Kleiber was a former faculty member at UCDavis who is considered to be one of the historical leaders in the field of biochemistry and metabolism: http://animalscience.ucdavis.edu/alumni/memorial/kleiber-max.html)
Grace's accomplishments were recognized on May 22nd at a Graduate Studies reception. Congratulations Grace!!